A Risk Worth Taking
by:
Victoria James
Publication Date:
March 11, 2013
Publisher:
Entangled Publishing (Indulgence)
Source:
eARC
Interior designer Holly Carrington worked hard for her success. Then tragedy struck, leaving Holly the sole guardian of her infant niece. Now she's swapped her designer purse for a diaper bag, and is going ahead with plans to renovate—and sell—her childhood home in Red River. But facing her past also means coming face-to-face with Quinn Manning all over again...Quinn was the object of her girlhood crush—and heartbreak— and is more gorgeous than ever. He's also the only person qualified to oversee the renovation. Now they're butting heads every step of the way... and their attraction is more electrifying than ever! But once the house is sold, Holly needs to return to her real life. And falling for Quinn all over again is one risk she can't take...
My Thoughts:
It's been 10 years since Holly Carrington lived in Red River. She left at the age of 18 to go to school and pursue a career in interior design, which she has become very successful at. She has finally achieved her goal and worked her way up into the position of senior designer. The only family that Holly has left is her sister, brother-in-law, and baby niece Ella, who she adores. When she receives word that there has been a tragic car accident that has taken the life of her sister and brother-in-law, she is completely devastated. Thankfully, baby Ella is fine, but now Holly finds herself as Ella's sole guardian, a task that she fears she can't handle or live up to. Having already planned to take 2 months off to renovate her grandparents home in Red River for her sister, she and baby Ella pack up and head home. Home has lots of memories, good and bad....memories that Holly doesn't know if she can handle. She has called Quinn Manning to head up the renovation project for her and is really nervous about seeing him again. She has had a crush on him since she was big enough to have a crush. At 18, she confessed her feelings to Quinn, who was 25 at the time, and was crushed when he didn't reciprocate, telling her she was too young. When she sees him again, all those feelings come back to the surface, the crush and the hurt caused by Quinn's rejection. Quinn is also faced with his feelings, the past, and has his own wounds and guilt to deal with. Will these two be able to overcome the obstacles set before them and find love once again, or will Holly's fears for the future and Quinn's guilt from the past be more than they can overcome?
I really loved A Risk Worth Taking. Holly's character was great and I enjoyed getting to know her as she transitioned into her role as Ella's mom. Her Coach bag, which was once a symbol of her success has now become a diaper bag, and her fancy clean car is now filled with baby stuff. Holly is very strong and very stubborn, but she also has a lot of hurt that she has buried deep inside. She totally adores Ella, and Ella is an absolute doll that will melt your heart, a fact that Quinn Manning finds out shortly after meeting her. Quinn is a total hottie. I mean the man just has it going on. He steps in to help Holly in any way he can, but soon realizes that the feelings he once had for her are still there, and the feelings that he has for Ella really throw him for a loop. Quinn and Holly are both stubborn, and dealing with the renovation of the house proves to be both entertaining and challenging, with some really humorous situations that I totally enjoyed. The chemistry between Quinn and Holly is undeniable, and I loved watching their relationship develop as they dealt with their desires, their hurts, and their fears, butting heads along the way. I found A Risk Worth Taking to be a wonderful contemporary romance that is funny, sexy, fast paced, with some sad moments,and some really heartwarming ones. If you are a contemporary romance fan, then A Risk Worth Taking is something you should definitely check out.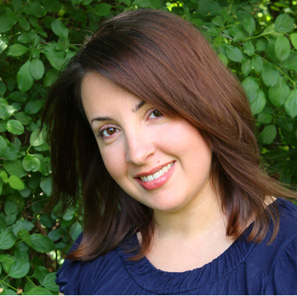 About: I always knew I wanted to be a writer and in grade five, I penned my first story, bound it (with staples) and a cardboard cover and did all the illustrations myself (if you've ever seen my drawings you'll know how horrible they must have been. I still draw stick figures). Luckily, this book will never see the light of day again.

In high school I fell in love with historical romance and then contemporary romance. After graduating University with an English Literature degree, I married my own hero, pursued a degree in Interior Design and then opened my own business.

After the birth of our first child, I knew it was time to fulfill the dream of writing romantic fiction. I'm a hopeless romantic who is living my dream, penning happily-ever-after's for my characters in between managing kids and the family business. Writing on a laptop in the middle of the country in a rambling old Victorian house would be ideal, but I'm quite content living in suburbia with my husband, our two young children, and very bad cat.

I'd love to hear from you! Always feel free to connect with me via email, Twitter, or Facebook.