Welcome to my stop on the blog tour for A Risk Worth Taking by Victoria James from Entangled Publishing. Today's stop features an interview with Victoria, as well as a giveaway for a $100 Coach gift card and a e-Book of A Risk Worth Taking which you can enter below. Thanks so much for stopping by!
A Risk Worth Taking
by:
Victoria James
Publication Date:
March 11, 2013
Publisher:
Entangled Publishing (Indulgence)
Interior designer Holly Carrington worked hard for her success. Then tragedy struck, leaving Holly the sole guardian of her infant niece. Now she's swapped her designer purse for a diaper bag, and is going ahead with plans to renovate—and sell—her childhood home in Red River. But facing her past also means coming face-to-face with Quinn Manning all over again...Quinn was the object of her girlhood crush—and heartbreak— and is more gorgeous than ever. He's also the only person qualified to oversee the renovation. Now they're butting heads every step of the way... and their attraction is more electrifying than ever! But once the house is sold, Holly needs to return to her real life. And falling for Quinn all over again is one risk she can't take...
Interview with Victoria James, author of A Risk Worth Taking and The Billionaire's Christmas Baby.
Hi Victoria, it's so great to have you. Thanks for coming.
Hi Ellen, thanks much for having me!
Can you tell us a little bit about yourself?
Sure! I'm a mom, a wife, a designer, and writer. I have a six year old son and a two year old daughter. Last year, my first manuscript, The Billionaire's Christmas Baby was acquired by Entangled, Indulgence. My current release, A Risk Worth Taking is the first book in my Red River Series.
Can you tell us a little bit about Holly and Quinn?
They are very complicated people, LOL.
Holly is an interior designer who has had to face tremendous loss in her life. She is suddenly thrust into the role of guardian for her baby niece when her sister and brother-in-law are killed in a car accident. But Holly is a fighter, even though she believes she doesn't have the strength to fight anymore. When she returns to her hometown to renovate and sell her childhood home, she's forced to confront her feelings for the one man she could never forget…
Quinn is my kind of man

J

He's the guy who always tries to do the right thing-even if he doesn't always get it right. He's reliable, tough, and very charming ;-) He knows once he sees Holly again, that he can't let her get away a second time. He works through his own baggage in order to be there for her, and give her what she needs. In the end, he gets his girl ;-)
Is the story based on your own experience and/or people you know, or is it purely fictional?
It's purely fictional, but I did draw on some of my own personal experiences. I'm a designer, so many of Holly's experiences with her profession were very familiar to me. And the big mouse incident sort of happened while we were gutting and renovating our own home. Red River is loosely based on a small town on Lake Erie in Ontario that I've been going to every summer since I was a child.
Do you recall how your interest in writing originated?
For as long as I can remember, I always wanted to be a writer. I was an avid reader from a very young age-Nancy Drew, Little House on the Prairie, and then as a teenager historical romances by Judith McNaught and Julie Garwood hooked me into the romance genre. I didn't seriously pursue writing for publication until after my son was born.
What is something that people would be surprised to know about you?
Hmmm. That my background is Italian. My parents were both born in Italy and immigrated to Canada during the 1950's. I have yet to draw upon my heritage to write a novel…who knows maybe an Italian billionaire is in my future ;-)
What books and/or authors have influenced your life most?
I'd say Judith McNaught-once I read her romances I knew I'd have to write one!
What are your current projects?
Right now I'm working on edits for the second Red River book (Jake and Claire's story) and I'm currently finishing up writing the third Red River book (Evan's story).
Do you have anything specific that you want to say to your readers?
Thank you! Thank you for all the comments, emails, reviews and support. It is truly the biggest and best surprise (especially for a new author) to receive personal emails from readers.
E-books or print copies?

Both.
Facebook or Twitter?

Twitter
Coffee, tea, or Coke?

Coffee, coffee, coffee.
Dark chocolate or milk chocolate?

Milk Chocolate
Beach or Mountains?

Mountains
Thansk so much for stopping by Victoria. It has been great talking with you!
Thank you so much, Ellen! This has been lots of fun :).
Read an excerpt from A Risk Worth Taking here.
You can see my review here.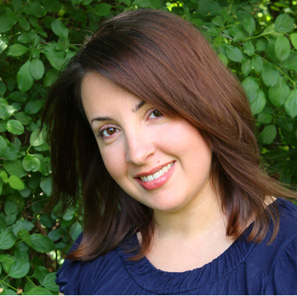 About: I always knew I wanted to be a writer and in grade five, I penned my first story, bound it (with staples) and a cardboard cover and did all the illustrations myself (if you've ever seen my drawings you'll know how horrible they must have been. I still draw stick figures). Luckily, this book will never see the light of day again.In high school I fell in love with historical romance and then contemporary romance. After graduating University with an English Literature degree, I married my own hero, pursued a degree in Interior Design and then opened my own business.After the birth of our first child, I knew it was time to fulfill the dream of writing romantic fiction. I'm a hopeless romantic who is living my dream, penning happily-ever-after's for my characters in between managing kids and the family business. Writing on a laptop in the middle of the country in a rambling old Victorian house would be ideal, but I'm quite content living in suburbia with my husband, our two young children, and very bad cat.I'd love to hear from you! Always feel free to connect with me via email, Twitter, or Facebook.
a Rafflecopter giveaway