Waiting on the Sidelines
by Ginger Scott
Published: April 15, 2013
Source: eBook provided by author for honest review.
Nolan Lennox had things figured out. Named after a baseball legend, she enjoyed being the Tomboy, her closet filled with her brother's hand-me-downs, cut-off jeans and soccer shorts. But when her first trip to high school results in a broken heart from the first boy to ever make her heart flutter and cruel words from an older girl she once thought a family friend, Nolan starts to question the very person she thought she was and wonders if her humble upbringing can compete with the afforded luxuries of her privileged peers.
Throughout the next four years, Nolan struggles to maintain herself throughout her path of discovery, learning just how cruel teenagers can be through the pressures of underage drinking, sexuality and class. And despite how life seems to continue to work against her, she still manages to listen to her heart, falling deeper and deeper for the guy the entire town adores, even if he only sees her as a friend. Can Nolan strike a compromise between her own integrity and the boy she loves? And can she make him notice her before it's too late?
Reed Johnson came to Coolidge High School with a lot of fanfare. The son of a hometown football legend and the brother of a local football hero, Reed wore all the pressures of carrying a town without hope into the spotlight. Thankfully, he had the talent to back it up. But when he meets a girl who makes him think twice about exactly what being a hero means, he starts to wonder if following in his brother's footsteps might be all wrong.
Nolan Lennox was everything that was opposite of expected. She didn't flirt, she didn't drink and she didn't sleep around. Nothing about her was easy, but something about her made Reed want to try harder. Though she didn't look the part, she seemed to be spending a lot of time in Reed's thoughts, and he wondered if she could be the one who made it all worthwhile. But could Reed handle letting her down? And would breaking her heart break him beyond repair?
Waiting on the Sidelines explores young love to its fullest, exposing how real young heartbreak and passion is and how important it is to discover yourself and hold onto your own identity. The story follows two young characters as they deal with mature situations, including the prevalence of bullying and promiscuity in today's high school setting. Ultimately, Waiting on the Sidelines is a story of hope, honesty and those powerful, first true loves—the ones worth holding onto at any cost.

My Thoughts: When I read the synopsis for Waiting on the Sidelines I was intrigued and thought it sounded like something I would like. What I didn't expect was to get so emotionally involved it it. The book begins with Nolan Lennox at soccer tryouts right before school starts, where she gets her first glimpse of Reed Johnson, who will be attending school there this year. Reed is from a wealthy family, and is believed to be the next high school football star that is going to put Coolidge High School in the limelight once again. His dad and his brother before him were also local football stars. When Nolan sees Reed, something inside her changes, her heart flutters, and she has the beginnings of her first crush. This will be Nolan's freshman year at a new school, and she has all the anxieties that go along with that. What she wasn't prepared for was the cruelty that she underwent at the hands of some of the other teenagers there, one in particular. Nolan has always been a tomboy, something that never really bothered her before. Her family doesn't have a lot of money, doesn't live in the nicest of homes, and she doesn't have the best clothes. When Nolan leaves soccer practice and overhears some of the other "popular" kids talking about her, making fun of everything from her name to her family's social status, and even the way she dresses, she is very, very hurt, causing her to try to change her image a bit. Her friendship with Reed begins when they are partnered in class to work on a project that requires getting together after class to do it. Thus begins their journey, their story, a story which spans from freshman year in high school until freshman year in college, and what a story it is.
The book is told from Nolan's point of view, and her character is so well written and developed. I connected with her and became very emotional invested in her character. Nolan is not your typical heroine by any means, but I loved her all the more for it. She is insecure in who she is, she is a little socially awkward, her nervousness causes her to be clumsy in the worst situations, yet she is so honest and sincere, and is truly a beautiful person inside and out. Reed Johnson is a total hottie. I really liked him as I got to know him, but as the book progressed, sometimes I hated him, and then loved him again, then really didn't like him because he was such a jerk, then felt sorry for him, liked him, hated him, and then liked him again as he began redeeming himself in my eyes by the end of the book. Nolan and Reed do not share an insta-love relationship by any means. Their's begins as a friendship and gradually progresses into a relationship over time. During this process, they dated other people, than fought, they made up, and went though some of the hardest situations you can imagine, including Nolan's being bullied, which just broke my heart.
Waiting on the Sidelines is a coming of age story that isn't sugarcoated at all, and I experienced the gamut of emotions from one end of the scale to the other as I rode this emotional roller coaster with Nolan and Reed though their high school years. It deals with life, high school, social status, peer pressure, relationship, awkwardness, love, friendship, and the pain experienced that comes along with being a teenager and finding out who you are, something that Nolan experienced more than her fair share of. Nolan is far from perfect, and so is Reed, but I loved her character and her story so much. I really loved so many of the secondary characters to, and actually loved to hate one in particular. I just wanted to pull her hair out. I laughed, cried, swooned, laughed some more, cried and felt heartbroken more than once, and by the end, was ready for more of the story. I was so glad to find out that there is going to be a sequel and we will get to read more of Nolan and Reed's story. I really want to see how things progress with them as they go through college, and I am really hoping that Reed will make me fall in love with him in that book. Even though Nolan has a forgiving heart, I am not sure that I do yet, at least not completely, but all of this just makes the story that much more of a great read. I have seen a teaser from the next book, and a character interview with Reed that has left me feeling good about where things are headed. I am really looking forward to seeing where Ginger Scott takes things in the next book, Going Long. I am a huge fan of characters finding their happily ever afters, and I am anxious to see when it is all said and done, if Reed and Nolan find theirs.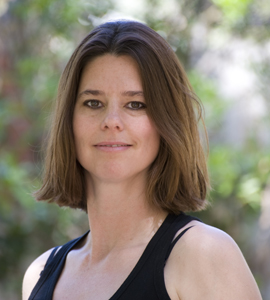 I tell stories for a living. It's a pretty great gig, actually. Each story has led to an amazing encounter, be it a new appreciation for the view from atop a polo horse to a deeper understanding of what it means to be the parent of a child with autism. I've told the stories of Olympians, comedians, doctors, teachers, politicians, activists, criminals, heroes and towns. You can check out a small sampling
here
or, heck, just Google me.
While my craft has always led me down the journalism road, my desire has always been to bring to life the fictional stories in my head. I've wanted to write novels since I understood what they were. But then life — and probably a dash of self-doubt — always seemed to get in the way. Finally, my husband pointed out that the only thing stopping me from writing my book was
actually…well…writing the damn thing. (His words.) So, I did. My book, "Waiting on the Sidelines," is now available on Kindle. It's a coming-of-age romance, and like the nonfiction stories I've told for years, I hope it, too, is honest and thought-provoking. I'm not going to lie, it's mushy as hell. But I also think it hits on some important issues — bullying, under-age drinking, anxiety and the pressures girls face to move faster than they want to just to keep up. I hope it inspires dialogue, and I hope mothers and daughters read it together. You can download it from Amazon here. Plus, look for announcements soon to download for Nook and from Smashwords, iBooks and Kobo.
(1) eBook of Waiting on the Sidelines
a Rafflecopter giveaway