Going Long (Waiting on the Sidelines #2)
by Ginger Scott
Published: October 1, 2013
They fell in love in high school and found their way back to one another despite the odds. But can first loves really be forever? For Reed Johnson, the dream was always football. But then Nolan Lennox took over his heart. Is he willing to give up his first love just to keep his true love? Or will he be too late?
Reed and Nolan's story continues in "Going Long," sequel to "Waiting on the Sidelines."
'Going Long' and All Grown Up
by Ginger Scott
Coming back to Reed and Nolan was like the world's greatest high school reunion—if you had a 2 ½-year reunion…and truly wanted to see everyone at the party.
Honestly, as much as I miss characters when I finish reading a book, I missed them even more when I put the last period in place in 'Waiting on the Sidelines.' I think it took me about 24 hours after writing 'The End' to realize where Reed and Nolan's story needed to go next. And when I realized there was demand from readers to take it there, I was giddy with excitement!
Then it hit me: I had to age a set of characters that are as real to me as my own family from one major milestone in life to the next. I had grown used to the high school voices of Nolan and Reed (the immaturity, selfishness and insecurities). The differences between high school and college are as great as kindergarten and junior high—you go from a sheltered life where you have rules, parents, structure and expectations to one where you're in charge of your own destiny and where the decisions you make put you on a path that, with one wrong turn, can be hard to correct. I had to remind myself that my high school friends had outgrown their adolescence but were still finding their way in the adult world.
I knew I had a lot of readers who identified with Nolan, and I'm proud to say that those readers span from 13 to 65. So I wanted to take them on this journey responsibly—but without pulling any punches. I think a reason people connect with Nolan so well is the reality of the situations she faces, and the way she's able to come out the other side still whole. But doing that, in real life, isn't always easy, and I wanted to capture Nolan's struggle in 'Going Long.'
The challenges Nolan faces are
very
real. They are pressures and situations my friends have faced, that many of my readers have probably faced, and that many of my younger readers will confront as they transition from teenager to adult. What I hope they learn from Nolan, just like with 'Waiting on the Sidelines,' is that a strong circle of friends is maybe one of the most precious things in life. And holding onto those friends during a time when life is simply changing—and changing fast—is hard. But if you put up a good fight, you exponentially up your chances for a happily ever after.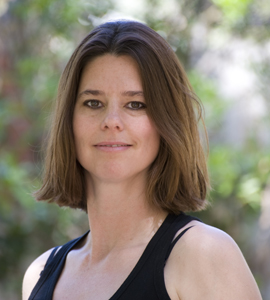 About: I tell stories for a living. It's a pretty great gig, actually. Each story has led to an amazing encounter, be it a new appreciation for the view from atop a polo horse to a deeper understanding of what it means to be the parent of a child with autism. I've told the stories of Olympians, comedians, doctors, teachers, politicians, activists, criminals, heroes and towns. You can check out a small sampling
here
or, heck, just Google me.
While my craft has always led me down the journalism road, my desire has always been to bring to life the fictional stories in my head. I've wanted to write novels since I understood what they were. But then life — and probably a dash of self-doubt — always seemed to get in the way. Finally, my husband pointed out that the only thing stopping me from writing my book was
actually…well…writing the damn thing. (His words.) So, I did. My book, "Waiting on the Sidelines," is now available on Kindle. It's a coming-of-age romance, and like the nonfiction stories I've told for years, I hope it, too, is honest and thought-provoking. I'm not going to lie, it's mushy as hell. But I also think it hits on some important issues — bullying, under-age drinking, anxiety and the pressures girls face to move faster than they want to just to keep up. I hope it inspires dialogue, and I hope mothers and daughters read it together.
Links:
Amazon |
Kobo
|
Smashwords
|
Barnes and Noble
Author Links:
Website
|
Facebook
|
Twitter
|
Blog
My Review of Going Long: I totally fell in love with Nolan and Reed's story in Waiting on the Sidelines, and I was so excited that Ginger Scott was writing a sequel, because I just wasn't ready for their story to end. Nolan is one of those characters that just grips your heart and becomes a part of you. I really connected with her in Waiting on the Sidelines. I felt her pain, her insecurities, her hopes and dreams, and her fears, and that feeling just continued right on in Going Long. Nolan and Reed's story begins in Waiting on the Sidelines while they are in high school, and continues until the beginning of their freshman year in college. Going Long picks up a couple of years later, and continues through college, with a fantastic epilogue that wraps things up several years down the road, which was so wonderfully perfect. While I totally loved Nolan in the first book, I only liked Reed, but I didn't love him because frankly, he was really a jerk and hurt Nolan badly. He did begin to redeem himself in my eyes at the end, but he still had a ways to go, and I just didn't know if he could truly be trusted.
I am happy to say that in Going Long Reed won my heart completely, totally owning me. The book is written from Reed's and Nolan's point of view, which I enjoyed so much, and in my opinion, Reed stole this show in my eyes. He was amazing. He did have his hardheaded male moments a few times, but overall he was fantastic. To experience in his words the way he truly felt for Nolan was beautiful. Of course I still loved Nolan also. She really goes through a lot in this book, experiencing the gamut of emotions from one end of the scale to the other. She is still really insecure in her relationship with Reed, though she tries her best not to show it. I really can't blame her. I think I would feel the same way to. I mean the guy is hot, he is the star quarterback in college with national press coverage, and is already being approached by the NFL for pro football. He has girls hitting on him all the time, and though he isn't interested in them, it is still really hard for Nolan. She is really beautiful, but she doesn't see herself that way. They were also at two different colleges, which made things more difficult, and then there were some lack of communications episodes, along with some not so nice people that wanted to sabotage things, which didn't help. They really endured so much in this book, good, bad, and ugly, but one of the things I really liked about the plot and the way Ginger Scott executed it, was that it was real. She didn't sugarcoat things. There's was never an insta-love, but there was true love. It was a love that progressed over years, with all the ups and downs you would expect to see from the teenage years to new adulthood, one that gets knocked down and then gets back up again, because true love never fails.
The secondary characters in this story are really awesome to, and they also felt so real and played such a big part in the story. You could tell that the friendships that were forged in this group were the kind that are lifelong.
Going Long
captured my interest from beginning to end, and I literally couldn't put it down and wound up staying awake until the wee hours of the morning to finish it. Overall, I loved this series and I enjoyed so much being a part of Nolan and Reed's, along with their friends' journey through rough waters, calm waters, and everything in between, as they carved out their places in life.
You can see my review of Waiting on the Sidelines (Book One)
here
.
(3) eBooks of Going Long by Ginger Scott
a Rafflecopter giveaway