I am happy to feature Author Ginger Scott and her new novel, Blindness, on the blog today. I just think the cover is so hot!! Keep reading below for an interview with Ginger and an excerpt below, then stop back by in a couple of days for my review and a giveaway. Thanks for visiting!!
Blindness


A novel by Ginger Scott
Published: February 25, 2014

It takes a while to know who you really are. And when you lose your way, sometimes it's hard to find it again.

Charlie Hudson was on the verge of figuring that out when her dad—the only parent and friend she ever had—died suddenly. She was barely 18, and she was alone. So she went for easy—playing life safe, running away from a home that harbored nothing but bad memories and challenges and loving a man who would take her away from it all forever.

It's funny how chance takes over when you need it most. And that's exactly what brought Cody Carmichael into her life. A former motocross super star, Cody was now happy to be living the blue collar life, spending his days finishing up school and his nights under the hood of some classic car, just trying to keep everything his father taught him alive. Cody and Charlie were living parallel lives, until they finally collided. And the moment he smiled at her, Charlie knew he was the one who would change everything. But was she willing to take the risk?

Cody saw through it all. He saw her—all of her. But would letting him in be too much to take? And if Charlie let herself love him—really love him—could he love her back?
Interview with Author Ginger Scott
Hi Ginger. Thanks so much for being here today.
1. Where did you get your idea for Blindness, and is it a stand alone, or will it be part of a series?
Cody, my male lead, came to me first. I dreamt him up when I was finishing Waiting on the Sidelines. There was just something appealing about someone with certain imperfections, a physical injury that made him weak but a beautiful inside that made him strong. I also love the journey of finding out who you really are, and I wanted to see what happened when you put two people together—one who is sure of himself and one who is going through life pretending she's okay. Their story grew from there.
When I began writing Blindness, the intent was to have it live as a stand-alone. But as I got deeper into it, I started to see a bigger story and a lot of possibilities. I like my stories to have a feeling of completeness—an end, if you will—so Blindness can be read with a satisfying beginning, middle and end. But I think there will likely be a revisiting of these characters in the not-too-distant future. There's more of Cody and Charlie's story for sure.
2. Can you tell us a little bit about Charlie and Cody?
I'd love to!
Let's start with Charlie. Charlie's on autopilot, cruising through life checking off boxes of things she thinks she's supposed to do, be and have. Her childhood was not typical, robbed of her youth in many ways. And her only real relationship with a parent was brief—enough to form a scar but not enough to make her whole. She's living a scared life because its easy, and she's never had it easy, so easy is very appealing. But she's also missing out on the whole feeling part of life.
As for Cody…ah, my sweet Cody. He's the guy who puts his friends first. He's a thrill-seeker, which is what drew him into motocross in the first place, but his knack for taking risks has also left him broken (both physically and emotionally). He loves deeply, but not often. And once he's made his mind up about someone, he's tough to convince otherwise. When he meets Charlie, he hears all of the warning signs in his head, but he also sees this common thread that he can't ignore—and he just can't seem to stay away.
3. How did you come up with the title? (I have to say I absolutely love the cover).
I love the cover, too! Thank you!
The title is a little shout-out to Jack White. I think he's a bit of a genius, and his cover of Love Is Blindness pretty much sums up the feelings of this book, so it seemed fitting.
4. What is your favorite scene or quote from Blindness that you can share with us?
There's this tiny moment, when Charlie is waiting for Cody to meet her for coffee. She's letting herself give in to her attraction to him, maybe just a little, and so is he. During their interaction, this small shift occurs, where something friendly crosses the line, and he holds her hand…a little longer than he should. I can see that whole thing play out in my head, and I LOVE IT!
My favorite line is a little later, during a scene where Charlie is comparing Cody to her father.
"You don't have to worry, though. I made a friend," I say, my heart racing with panic that Cody won't stay to hear the rest, which makes me speak louder and faster.
"You'd actually like him a lot—probably more than Trevor," I admit, unable to stop the smile on my face knowing exactly how much my dad would love Cody. "I only know him a little, but I'm getting to know him more. I try to make him smile. His eyes crinkle when he smiles— just like yours."
I'm a daddy's girl, and my dad pretty much walks on water. So the thought of drawing such a dramatic comparison, of saying such a brave compliment out loud, just gets me—every time I proofed this I had to read it twice.
5. I am also a huge fan of your Waiting on the Sidelines Series. Out of all your books, which character has been your favorite to write and which has been your most challenging?
This one's easy. I love Buck. I want him to be real so badly that I can hardly stand it. For those that might not know, Buck Johnson is Reed's dad in the Waiting series. He's a good ole boy, but he's also got this wisdom—he says these things that you don't think a man like him should say. And he's never wrong. Ever! And you want to be his friend, get invited to his house, and never disappoint him.
My most challenging was Trevor, Charlie's boyfriend in Blindness. I can't give away why completely, but let's just say I walked a line with Trevor—a very thin, narrow, careful line. One wrong step would send this story in the wrong direction.
6. Can you tell us three things about yourself that people would be surprised to know?
I can sing a mean country tune. Patsy Cline is a fav.
I think Lloyd Dobbler blows Jake Ryan out of the water.
I actually watch golf on TV…on purpose…and I have favorites I root for.
7. If you had to sum up Blindness in a tweet, what would it say?
Sometimes the best parts of life hurt a little during the journey, but truly loving and being loved is worth every battle wound.
8. Do you have an all-time favorite book?
This is always so hard to answer. Judy Blume's Forever had a huge impact on my reading habits as a young girl, and probably inspired my writing desire to a large extent. But my favorite book is actually a work of non-fiction. Before there was a movie or a television show, Friday Night Lights was the best piece of sports journalism I ever read. An ASU professor assigned it as a way to look at race relations and socioeconomics in the south. And it changed my life. I loved the show and movie it inspired, but for entirely different reasons. Texas high school football has a mystique that fascinates me, and this book captured every ounce of it.
9. What's next for you writing wise that you can share with us?
I have a few chapters done on a new project that will be a stand-alone. It's a deeply personal story that means more to me than anything else I've ever written. I should be able to share details this summer. I've also got a book full of notes on more Charlie and Cody, and I think I will probably be paying them another visit soon.
Complete the sentence:
I have never: met a Christian Bale movie I didn't like.
I always: put my boys first (both the big guy and the little guy).
I love: writing, and I can't think of another thing on this planet that I'd rather spend my day doing.
I hate: the Yankees.
Thanks so much for stopping by Ginger. It was great talking with you.
Cody is still next to me, his grip on my hand once again strong, but his body is stiff. I'm rewinding mentally, realizing just how far I went. Shit! I said way too much! I don't even know what I'm doing here. This all suddenly feels way too intimate—wrong. My pulse is speeding up the more I think about what Trevor would think if he saw me, saw this—
saw us!
I slide the pillow from my chest to the side and work my fingers until they're out of Cody's grip. He remains next to me, but isn't moving. I'm pretty sure I just made him feel unwelcome in his own bed, the awkwardness creeping in now and almost choking me. I have to leave, leave this bed and then leave this room. I'll be calm until I shut his door, and then I'm running.
Yes, that's it. I'll run.
"Oh God, I'm sorry. I just unloaded, like, way too much on you. I'm…I'm just going to go," I say, pushing myself up to sit at the side of the bed and slip on my shoes. The light is dim, but I can tell that Cody's eyes have shifted to me. He's still not moving or speaking, and I don't really want him to. I just want to get out of his room without him saying a word.
"Thank you, truly," I say as I stand and look once more at the ceiling. "The stars? They're amazing," my voice wavers, and I turn and walk to his door. I'm gripping the handle, willing myself to keep it together for just a few more seconds until I'm out of his view, when I feel his body behind me and see his hand flat against the door.
His breath against my neck raises every hair on my body. I'm looking intently at his fingers splayed out on the wood paneling of the door in front of me, my hands still gripping the door handle. Beyond this door, my life continues on one path—a path I know. A path I love. But I'm stalled, considering what happens if I stay in this room. I'm paralyzed. Fear. Indecision.
"Cody, I…" I start, but don't know how to finish.
"Just stay," he says, his voice barely audible, and the air released from his words sends more chills around my neck and down my entire body.
"Just…" I hear him swallow, and even though I can't see him, I know he's struggling. I keep my eyes forward and watch his fingers curl into a fist on the door, clinching tightly. "I won't…I wouldn't make you uncomfortable. I'm not asking you to do anything. Please…please just stay," his head falling flat against the back of mine as he speaks. I can feel him breathe me in, and I feel like I'm racing down a hill, lightheaded from the conflict brewing inside.
"Okay," I whisper, not even aware that it was me speaking. I'm on autopilot, turning away from the path I know and recognize on the other side of the door, but desperately worried that it won't be there when I finally leave this room.
Cody's hand slides from the door to my shoulder, and I shiver as he traces the back of his fingers down the length of my arm until he finds my hand once again. He pulls me to him, forcing me to turn into his body. I keep my eyes focused on the words on his shirt, reading the dates and towns to myself. Some tour shirt—a concert, perhaps? Or maybe a race? I'm trying to keep my mind busy with this pointless task when Cody reaches for my chin and pulls my face to look at his.
His eyes are serious. Even in the darkness of his room, I can see the flecks of blue—I'm that close. I watch them as they move to the side of my face to follow his hand as he pushes my hair away from my face slowly, tucking it behind my ear but leaving it there, his fingers tangled deep within my hair. He tilts his head to the side, and I think for a moment that he's about to kiss me. I lick my lips on instinct, and I feel him tense up from it.
His hand forces me forward into him and I close my eyes, almost believing that if I don't see it coming I won't be able to stop it. I feel his chest press to mine next, then his hand wraps deeper into my hair so he's cradling the back of my head. His other hand slides up my side to the middle of my back, and his chin comes down above my head so I'm completely tucked within his embrace. I'm sheltered, and it's the first time I've ever felt my heart actually stop from being in someone's arms.
Giving in, I bring my hands up Cody's back so I'm hugging him tightly to me, my fingers gripping at his torn T-shirt. I slide my face flat against him and let out everything I've been holding in—it feels like for years.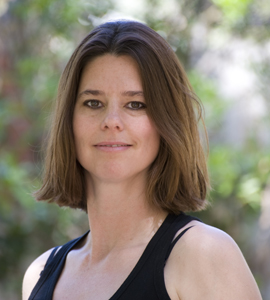 About: I tell stories for a living. It's a pretty great gig, actually. Each story has led to an amazing encounter, be it a new appreciation for the view from atop a polo horse to a deeper understanding of what it means to be the parent of a child with autism. I've told the stories of Olympians, comedians, doctors, teachers, politicians, activists, criminals, heroes and towns. You can check out a small sampling
here
or, heck, just Google me.
While my craft has always led me down the journalism road, my desire has always been to bring to life the fictional stories in my head. I've wanted to write novels since I understood what they were. But then life — and probably a dash of self-doubt — always seemed to get in the way. Finally, my husband pointed out that the only thing stopping me from writing my book was actually…well…writing the damn thing. (His words.) So, I did. My book, "Waiting on the Sidelines," is now available on Kindle. It's a coming-of-age romance, and like the nonfiction stories I've told for years, I hope it, too, is honest and thought-provoking. I'm not going to lie, it's mushy as hell. But I also think it hits on some important issues — bullying, under-age drinking, anxiety and the pressures girls face to move faster than they want to just to keep up. I hope it inspires dialogue, and I hope mothers and daughters read it together.
Author Links:
Website
|
Facebook
|
Twitter
|
Blog