Blindness


A novel by Ginger Scott
Published: February 25, 2014

It takes a while to know who you really are. And when you lose your way, sometimes it's hard to find it again.

Charlie Hudson was on the verge of figuring that out when her dad—the only parent and friend she ever had—died suddenly. She was barely 18, and she was alone. So she went for easy—playing life safe, running away from a home that harbored nothing but bad memories and challenges and loving a man who would take her away from it all forever.

It's funny how chance takes over when you need it most. And that's exactly what brought Cody Carmichael into her life. A former motocross super star, Cody was now happy to be living the blue collar life, spending his days finishing up school and his nights under the hood of some classic car, just trying to keep everything his father taught him alive. Cody and Charlie were living parallel lives, until they finally collided. And the moment he smiled at her, Charlie knew he was the one who would change everything. But was she willing to take the risk?

Cody saw through it all. He saw her—all of her. But would letting him in be too much to take? And if Charlie let herself love him—really love him—could he love her back?
My Thoughts:
I became a fan of Ginger Scott when I read her first two books, Waiting by the Sidelines and Going Long. I was thrilled to find out she had another book coming out and couldn't wait to see what she had in store for her readers in Blindness. I have to say, I was wowed and wooed by the cover, I mean I would buy the book based on that along I am sure. That said, let's get to the story itself. Charlotte "Charlie" Hudson has had anything but a normal life, and what little bit of normal she had with her dad and her best friend was ripped away from her. When she runs away from it all to college and meets her boyfriend Trevor, he is every girls fairy tale prince, or so it seems. Charlie finds herself conformed into the image that Trevor expects of her, and she even thinks that is who she is and what she wants, that is until she meets Cody Carmichael. From that point forward, everything she thought she knew and everything she thought she wanted began to unravel before her eyes and for the first time, she questioned her feelings and what she really wanted, rather than accepting what was expected. Cody Carmichael has also known grief. In fact, he has experienced it intimately and become very well acquainted with it. He also has lost everything that was important to him. When these two finally connect, it is like they have found that part of themselves that was missing, but things are complicated, very complicated........but they both have to decide if they are willing to take a chance on love, and what they are willing to sacrifice in order to find it.
I really liked both Charlie and Cody, and I even liked Trevor. Cody has the whole bad boy vibe thing going for him, he is tattooed, and as hot as hot can get. I really liked Charlie also, she is far from perfect and has a lot of insecurities, but those things also made her very real. I will say there is a love Triangle involved, which I am usually not a fan of, but in this case, it was very well done and an intricate and necessary part of the story. I love the way the relationship between Cody and Charlie grew. The chemistry was there from the get go, but the relationship and trust built over time, and was very deep, heart-felt, and intimate. A lot happens throughout the course of the book, a lot of hurt, pain, loss, self-discovery, love, hope, and redemption, which makes for quite a dramatic read.
As for the secondary characters, they were great. I especially liked Gabe and Jesse, Cody's best friends, who also become good friends and support for Charlie. I even liked Trevor. He turned out to be a really great guy as the story progressed, just a little selfish and clueless, but definitely Prince Charming material for the right girl. The villian in the story is Trevor's Dad Jim, who is one of those characters that you love to hate.
I really enjoy Ginger Scott's writing style. She has the ability to such you into the pages of the books she writes, enabling you to connect with the characters in a deep way, experiencing their emotions right along with them. The book was fast-paced and kept me intrigued from beginning to end. There is also a great epilogue at the end of the book. Overall, Blindness is a really great new adult contemporary romance, and Ginger Scott does a wonderful job of creating a story and making it her own in the growing sea of contemporary new adult reads out there. I thoroughly enjoyed it and most definitely recommend it.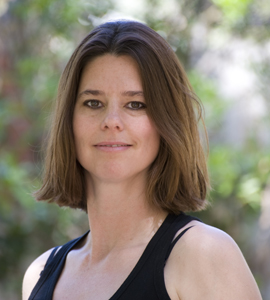 About: I tell stories for a living. It's a pretty great gig, actually. Each story has led to an amazing encounter, be it a new appreciation for the view from atop a polo horse to a deeper understanding of what it means to be the parent of a child with autism. I've told the stories of Olympians, comedians, doctors, teachers, politicians, activists, criminals, heroes and towns. You can check out a small sampling
here
or, heck, just Google me.
While my craft has always led me down the journalism road, my desire has always been to bring to life the fictional stories in my head. I've wanted to write novels since I understood what they were. But then life — and probably a dash of self-doubt — always seemed to get in the way. Finally, my husband pointed out that the only thing stopping me from writing my book was actually…well…writing the damn thing. (His words.) So, I did. My book, "Waiting on the Sidelines," is now available on Kindle. It's a coming-of-age romance, and like the nonfiction stories I've told for years, I hope it, too, is honest and thought-provoking. I'm not going to lie, it's mushy as hell. But I also think it hits on some important issues — bullying, under-age drinking, anxiety and the pressures girls face to move faster than they want to just to keep up. I hope it inspires dialogue, and I hope mothers and daughters read it together.
Author Links:
Website
|
Facebook
|
Twitter
|
Blog
One e-book of Blindness gifted from Amazon, Barnes and Noble, or iTunes.
To enter, just leave a blot post comment and the winner will be chosen
via random generator on 3/7/14.
Winner: Kelly Fox #3
True Random Number Generator
3
Powered by RANDOM.ORG