First, I had to remember how to breathe. Then, I had to learn how to survive. Two years, three months and sixteen days had passed since I was the Rowe Stanton from before, since tragedy stole my youth and my heart went along with it.
When I left for college, I put a thousand miles between my future and my past. I'd made a choice—I was going to cross back to the other side, to live with the living. I just didn't know how.
And then I met Nate Preeter.
An All-American baseball player, Nate wasn't supposed to notice a ghost-of-a-girllike me. But he did. He shouldn't want to know my name. But he did. And when he learned my secret and saw the scars it left behind, he was supposed to run. But he didn't.
My heart was dead, and I was never supposed to belong to anyone. But Nate Preeter had me feeling, and he made me want to be his. He showed me everything I was missing.
And then he showed me how to fall.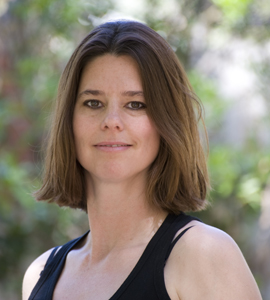 About: I tell stories for a living. It's a pretty great gig, actually. Each story has led to an amazing encounter, be it a new appreciation for the view from atop a polo horse to a deeper understanding of what it means to be the parent of a child with autism. I've told the stories of Olympians, comedians, doctors, teachers, politicians, activists, criminals, heroes and towns. You can check out a small sampling
here
or, heck, just Google me.
While my craft has always led me down the journalism road, my desire has always been to bring to life the fictional stories in my head. I've wanted to write novels since I understood what they were. But then life — and probably a dash of self-doubt — always seemed to get in the way. Finally, my husband pointed out that the only thing stopping me from writing my book was actually…well…writing the damn thing. (His words.) So, I did. My book, "Waiting on the Sidelines," is now available on Kindle. It's a coming-of-age romance, and like the nonfiction stories I've told for years, I hope it, too, is honest and thought-provoking. I'm not going to lie, it's mushy as hell. But I also think it hits on some important issues — bullying, under-age drinking, anxiety and the pressures girls face to move faster than they want to just to keep up. I hope it inspires dialogue, and I hope mothers and daughters read it together.
Author Links:
Website
|
Facebook
|
Twitter
|
Blo
Ellen