Welcome to the tour for
Treasured Secrets
by Kendall Talbot! This is an adult action adventure that releases April 22nd from Harlequin Escape.
Treasured Secrets
by Kendall Talbot
Publisher:
Escape Publishing - Harlequin Enterprises,
Australia Pty Ltd (April 1, 2015)
From Romantic Book of the Year winner Kendall Talbot comes an adrenaline-fuelled new series introducing sassy sexy characters, exotic locations, and action-packed adventure.
Some secrets should remain hidden forever…

The last place Rosalina expected the clue to a 700-year-old mystery to lead her was back into the arms of Archer, the man who broke her heart. When neither can solve the puzzle without the other, they set off on a new adventure. They're forced to ignore the sparks that still fly unhindered between them as their search for the golden riches weaves from Tuscany's underbelly to Archer's luxurious yacht in the Greek Islands.
Archer desperately wants to salvage his shattered relationship with Rosalina but fighting for her love soon takes a back seat to fighting for their lives. Ruthless competition is hot on their heels and will do anything to get his hands on the treasure. With evil close on their trail, and Archer wrestling with the remnants of a childhood tragedy, Rosalina begins to wonder if some secrets were never meant to be revealed.
••••••••••••••••••••••••••••••••••••••••••••••••••••••••••••••••••••••••••••••••
Kendall Talbot is an award winning author, thrill seeker and a hopeless romantic. She has travelled extensively, some 36 countries, and counting and she's addicted to experiences that make her scream…white water rafting, scuba diving with sharks and hang gliding are just a few. Her stories reflect her sense of adventure and her long running love affair with her very own hero.
Kendall collects junky jewellery and expensive perfume, her favourite night out is with great friends and a fabulous bottle of wine or two, and she rarely watches TV. She lives in Brisbane with her hubby, her two grown boys and her little dog, Josie McLuvin.


Her debut novel Lost in Kakadu (Escape Publishing, 2013) has received a clutch of award nominations and most notably won the exclusive Romantic Book of the Year.
Drop into Kendall's website sometime: www.kendalltalbot.com.au


••••••••••••••••••••••••••••••••••••••••••••••••••••••••••••••••••••••••••••••••
My Thoughts: Treasured Secrets is so much more than a romance novel. When I saw the title and learned who the publisher was, I knew it would be a good romance. What I didn't expect, however, was the delightful amount of action, suspense, and danger that made story just come alive and jump off the pages. Archer is a super hot Aussie and Rosalina is a fiery Italian chef, I enjoyed getting to know both Archer and Rosalina's characters so much. Their romance had just the right amount of "spice" to give it that hot element that I love. The story line was delightful and so different from what I have been reading lately. The secondary characters also played a big part in this novel, and Alessandro was quite entertaining as well.
Overall, Treasured Secrets was a wonderful romance that was fresh, entertaining and filled with edge of your seat action and suspense. Contemporary romance fans and fans of romantic suspense alike will enjoy this novel filled with secret treasure.
GIVEAWAY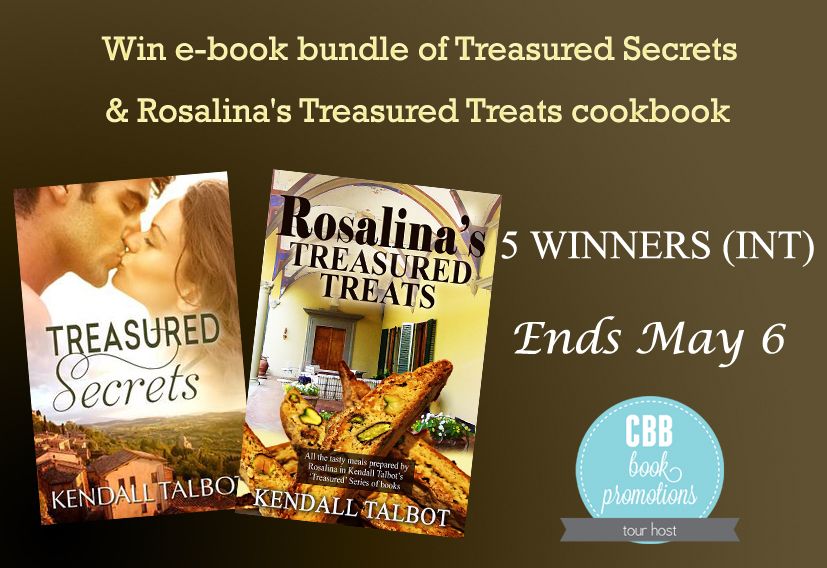 The author will be giving away ebook bundle of Treasured Secrets and Rosalina's Treasured Treats cookbook to 5 winners of the below Rafflecopter. Giveaway ends on May 6 and open internationally.
a Rafflecopter giveaway
This event was organized by
CBB Book Promotions
.