Join us in celebrating the release of SWEET by Tammara Webber! Check out the excerpt, teasers, and my review below!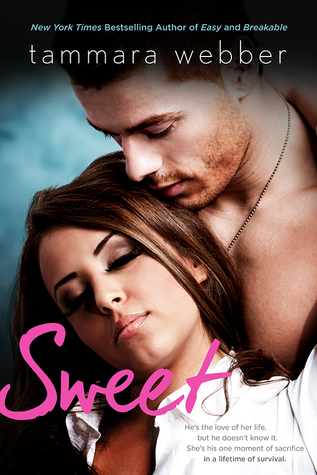 SWEET (Contours of the Heart #3) by Tammara Webber
NA Contemporary Romance
Blurb:
He's the love of her life, but he doesn't know it.
She's his one moment of sacrifice in a lifetime of survival.
He was damaged and wild, but resilient.
She's always been obedient. Now she's restless.
Home for the summer between college and med school, Pearl Torres Frank knows two things: Boyce Wynn is the embodiment of everything she should run from, and everything she wants to run to. Rebellious and loud. Unconcerned with society's opinion of him. Passionate. Strong. Dangerous.
And one more trait he hides from everyone but her:
Sweet
.
Boyce watched me, a lit cigarette in one hand and a koozied
beer in the other. We hadn't spoken since that kiss, other than his usual juvenile
quips during biology—the ones that drove Mel and Mr. Quinn insane and made
Landon smirk and shake his head and had me biting the inside of my cheek to
suppress my smile.
At first, I'd been confused, then disappointed, and then
angry. I'd worked my way to acceptance, like when I'd known I was drowning and
there was nothing I could do. He'd merely gone back to being Boyce Wynn, who
did what he wanted and who he wanted. And I'd gone back to being Pearl
Frank—star student, social royalty, good girl.
But I couldn't forget that kiss. The fixed glint of his eyes
across the fire said that neither could he.
My Thoughts: I adored EASY and BREAKABLE, and needless to say, I could not wait to get my hands on Sweet. I totally fell for Lucas in those books, and it was because of his story and I have to be honest, the potential of a glimpse of what was going on in his life was part of the reason. Needless to say, however, was that Tammara Webber had me falling for Boyce and totally in love with his and Pearl's story before I was even halfway through this book. Boyce's story was gripping.....and he and Pearl's romance was heartbreakingly beautiful. I loved the way they met. They way they were such a big part of each other's life, mostly from afar for so much of that time, and the way their passion totally consumed each other when they finally gave into it.
Of course there are misunderstandings, mostly due to a lack of communication, but Boyce never once stopped looking out for Pearl, and Pearl could never forget the guy who stole her heart when she was just a child. There is even a really intense situation at the end of the book that will have you biting your nails and flipping the pages to see what happens next. I loved the way the book ended, and I loved the epilogue so very much.......and yes, I got my glimpse at Lucas as well.....sigh. If you are a Tammara Webber fan, then you definitely will want to grab this book. I loved this, and I think contemporary romance fan at large will definitely enjoy this as well.
About the Author:
I'm a hopeful romantic who adores novels with happy endings, because there are enough sad endings in real life. Before writing full-time, I was an undergraduate academic advisor, economics tutor, planetarium office manager, radiology call center rep, and the palest person to ever work at a tanning salon. I married my high school sweetheart, and I'm Mom to three adult kids and four very immature cats.