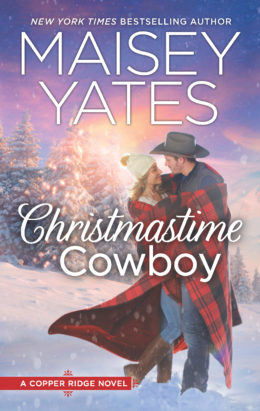 Christmastime Cowboy
Copper Ridge #10
by Maisey Yates
Published: 10/24/17
Publisher: HQN Mass Market Paperback
Goodreads | Amazon
It's Christmas in Copper Ridge, and love is waiting to be unwrapped…
Falling for a bad boy once is forgivable. Twice would just be foolish. When Sabrina Leighton first offered her teenage innocence to gorgeous, tattooed Liam Donnelly, he humiliated her, then left town. The hurt still lingers. But so does that crazy spark. And if they have to work together to set up her family winery's new tasting room by Christmas, why not work him out of her system with a sizzling affair?
Thirteen years ago, Liam's boss at the winery offered him a bribe—leave his teenage daughter alone and get a full ride at college. Convinced he wasn't good enough for Sabrina, Liam took it. Now he's back, as wealthy as sin and with a heart as cold as the Oregon snow. Or so he keeps telling himself. Because the girl he vowed to stay away from has become the only woman he needs, and this Christmas could be just the beginning of a lifetime together…
My Thoughts: The Donnelly brothers' story continues in Christmastime Cowboy, where we once again find ourselves in the beautiful town of Copper Ridge. Christmastime Cowboy is Liam Donnelly's story and he is the last of the four Donnelly brothers we get to read about. Liam's love interest is Sabrina Leighton. He and Sabrina knew each other 13 years prior, when she was only 17 and well, Liam was older. That said, they formed a really close friendship, though Sabrina was head over heels in love with him. Liam was crazy about her as well, but knew he was too old for her, not to mention to broken, so he refused to go there. As circumstances would have it, things ended on a really bad note and left each of them marked in ways they neither of them wanted to acknowledge. Now, 13 years later, they find themselves working together once again, and all the old emotions are just as strong, as is the passion and the pain from the incident that occured many years before.
Liam and Sabrina's story is one of second chances. They both have their issues. Liam has some many hurts from the past, way back into childhood. He's never let anyone close, not even his brothers, who are determined to see him find happiness and aren't afraid to get right up in his business and let him know that. Sabrina too sees how she's let the past control her life thus far, and also determines to push past that into a new future that isn't controlled with anger. She just wants it to be with Liam. The romance is once again hot and the story very enjoyable. Christmastime Cowboy is another great story by Maisey Yates that fans of the series and of contemporary romance will enjoy.